Chevrolet Equinox Features*
As one of the most comfortable and spacious SUV crossovers, the Chevrolet Equinox is one of the more popular models on the market. With advanced infotainment options and safety technology, this vehicle is perfect for those looking for a safe and innovative vehicle.
Common Chevrolet Equinox Features*
Body: SUV
Seating: 5 seats
Transmission: 6-Speed Automatic
Drivetrain: Front-Wheel or All-Wheel Drive
Engine: 1.5L I-4 Cylinder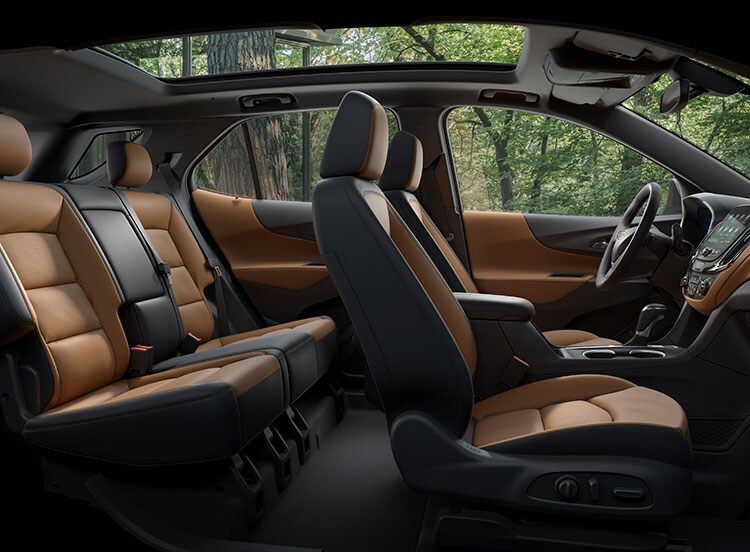 Some Chevrolet Equinoxes Also Have*
Trim: LT
Fuel economy: 2020 LT w/1LT SUV: 25.0/30.0 MPG City/Hwy
Fuel economy: 2019 LT w/1LT SUV: 26.0/32.0 MPG City/Hwy
Fuel Economy: 2018 LT w/2LT SUV: 22.0/29.0 MPG City/Hwy
Stability Control System with Traction Control
Audio and Phone Steering Wheel Controls
Noise Control System with Active Noise Cancellation
Following Distance Indicator
6-Speaker Audio System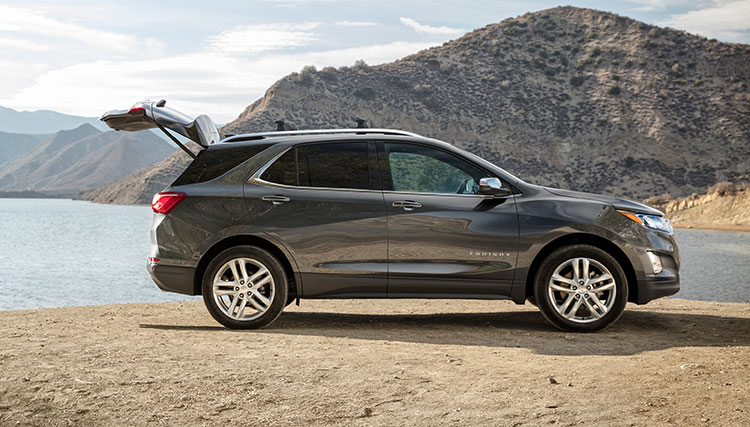 *Vehicle features are not guaranteed and may change with vehicle model-year. Manufacturer vehicle features and options are provided to Avis Car Sales by third parties for informational purposes only based on available data. Check the vehicle for actual features and options.
---
Other Notable Traits of a Chevrolet Equinox
---
Smooth Driving & Acceleration:  Whether you're driving down a dirt path or a poorly maintained road, the Chevy Equinox easily absorbs any irregularities. You and your passengers will hardly feel the bumps, and will love how smooth your ride is.

Safety: The Chevrolet Equinox does not hold back in terms of safety. It's fully equipped with numerous driver aids to ensure you're kept safe on the road. Your Chevy Equinox may contain safety features like collision warning, dual front impact airbags, and more.

Technology: While many vehicles have poor technology systems, the Equinox does not. All controls are easy to use, and make the Equinox one of the most user-friendly vehicles available.

Shop for a Chevrolet Equinox
Whether you're looking for a safety-conscious vehicle or something that's easy to handle, you'll find it in the Chevy Equinox. Shop used Chevrolet Equinoxes for sale in the Avis Car Sales Inventory. We offer vehicles in various years and colors, so you're bound to find one that meets your needs. 

Great for:
Commuting or long car trips
Easy handling
Fuel efficiency
User-friendly infotainment system and safety features
Comfortable seating
Browse Chevrolet Equinox Models In My Area
---
Common Questions About the Chevrolet Equinox
---
Is the Chevy Equinox a good car?
Compared to other compact SUVs, the Chevy Equinox has several features and capabilities that others don't, including easy-to-use technology features, great gas mileage, easy handling, and high reliability ratings. While it may have a little less storage space than some competitors, the Equinox more than makes up for it with its safety features, smooth ride, and comfortable interior. This model is a perfect choice for individuals looking for a safe, reliable car that has decent gas mileage and responsive technology controls. If you find a Chevy Equinox for sale, consider jumping on it!
How much is a Chevy Equinox?
The price range of a Chevy Equinox will vary widely depending on the year of the vehicle and whether you're shopping new or used. To find out the exact price for a used Equinox, check out Avis Car Sales. You can view Chevrolet Equinoxes for sale here.
How many seats are in a Chevy Equinox?
The Equinox can seat five people with enough storage space for vacation luggage, a few golf sets, or shopping purchases. Up front, the driver and passenger will have plenty of legroom and great visibility. The second row of seats is also fairly spacious and features car-seat connectors in the outboard seats, while the middle seat features a tether anchor. The second row of seats can be folded down to provide extra storage space if needed. All seats are plush, comfortable, and supportive, ensuring you and your passengers have an enjoyable ride.
Does a Chevy Equinox have third-row seating?
No, the Chevy Equinox only features two rows of seats and carries at maximum five passengers. However, the Equinox is still a spacious and comfortable vehicle that promises a smooth, enjoyable ride. The front row of seating has approximately 40.9 inches of legroom while the second row has about 39.9 inches of legroom. The trunk has about 29.9 cubic feet of space but can have as much as 63.9 cubic feet when the second row is folded down.
Shop Models Similar to the Chevrolet Equinox
*Due to a constantly changing inventory we cannot guarantee that each similar model will have vehicles in stock. Check back often to see our regularly updated inventory.