Dodge Durango Features
Get ready for an adventure when you find a Dodge Durango for sale at Avis Car Sales. This SUV is popular due to its towing capacity and 7 seats. Slide behind the wheel of a vehicle equipped for long rides on bumpy roads, and feel prepared for the journey ahead.
Common Dodge Durango Features*
Fuel economy: 18/25 mpg City/Hwy
Body: SUV
Seating: 7 Seats
Transmission: 8-Speed Automatic
Engine: 3.6 L V-6 Cyl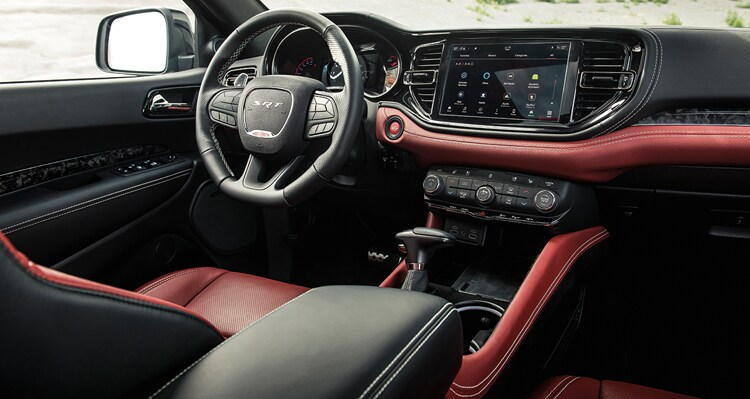 Some Dodge Durango Also Have*
Drivetrain: All-wheel Drive
Automatic Temperature Control
Emergency Communication System
Wireless Phone Connectivity
Parking Sensors
Exterior Parking Camera Rear
Front Dual Zone A/C
Speed-sensitive Wipers
Auto-dimming Rearview Mirror

*Vehicle features are not guaranteed and may change with vehicle model-year. Manufacturer vehicle features and options are provided to Avis Car Sales by third parties for informational purposes only based on available data. Check the vehicle for actual features and options.
---
Other Notable Traits of a Dodge Durango

---
Durability: From a hefty exterior to a tough interior, a used Dodge Durango for sale at Avis offers the whole package. Look good and drive safely as you roll over bumpy roads, and plan camping trips with a trailer attached.

Performance: With all-wheel drive and a heavy body, the Dodge Durango drives smoothly and is able to easily navigate various weather conditions. Compared to other SUVs, the long, narrow body makes it easier to park.

Safety: The Dodge Durango was built to last and has high safety ratings. You can feel secure as you drive through snow or around the city. Plus, the exterior parking camera in the back helps you look out for your surroundings when in reverse.

Shop for a Dodge Durango
Sun or snow, the Dodge Durango is ready to hit the road. This SUV is one of the best when it comes to towing, making this model a popular choice. Shop for a Dodge Durango in the Avis Car Sales inventory today and gain a roomy, family-friendly SUV made for the outdoors.

Great for:
Traveling with passengers
Towing
Driving in the rain
Rough roads
Browse Dodge Durango Models In My Area
---
Common Questions About the Dodge Durango

---
How much is a Dodge Durango?
Browse through low prices on used Durangos at Avis.
A Dodge Durango is a great option when looking for an affordable 7-seater SUV. Price will vary by vehicle. For example, a 2020 Dodge Durango for sale is going to be more expensive than a model made in 2018. The Durango can also save you money on gas, when compared to other SUVs and pickup trucks.
Are Dodge Durangos reliable?
The Dodge Durango is absolutely a reliable car, whether you need to tow a large load or drive in the snow. The Durangos have gotten more reliable as the years have gone on, making the most recent model the most reliable, but the Dodge Durango has been a dependable vehicle for years.
How much can a Dodge Durango tow?
When it comes to towing, the Dodge Durango succeeds with a towing capacity of more than 6,000 lbs. Plus, it comes equipped with an engine to match its strength. Balancing comfort, style, power, and more, the Dodge Durango is a top option when it comes to a towing machine.

Shop Models Similar to the Dodge Durango:
*Due to a constantly changing inventory we cannot guarantee that each similar model will have vehicles in stock. Check back often to see our regularly updated inventory.