Hyundai Elantra Features
The Hyundai Elantra is a popular car for good reason. With a sleek design, great safety features, long-lasting value, and smooth handling, it's always a smart move to seek a Hyundai Elantra for sale. If that's not enough, the Elantra has an impressive fuel economy, too.
Common Hyundai Elantra Features*
Body: Sedan
Seating: 5 seats
Engine: 2.0L 4 cylinder
Drivetrain: Front-wheel
Split-folding rear seat
Remote keyless entry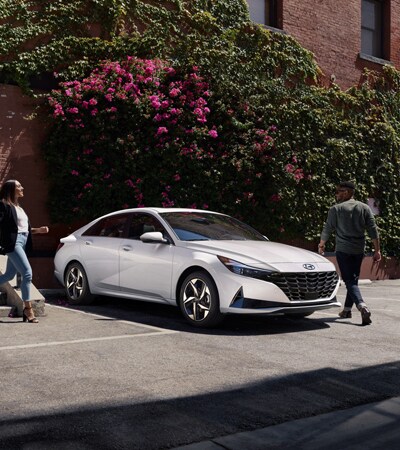 Hyundai Elantra Trim Variations*
Hyundai Elantra
Fuel economy: 28/37 MPG City/Hwy
Transmission: 6-speed automatic
Lane departure
Wireless phone connectivity
Backup camera
Steering wheel mounted audio controls
Fully automatic headlights
Security system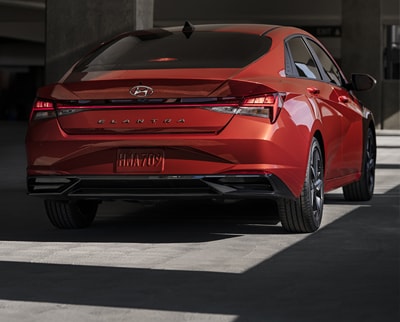 SEL
Fuel economy: 30/40 MPG City/Hwy
Transmission: Continuously variable automatic
Lane departure
Automatic temperature control
Wireless phone connectivity
Backup camera
Front dual zone A/C
Steering wheel mounted audio controls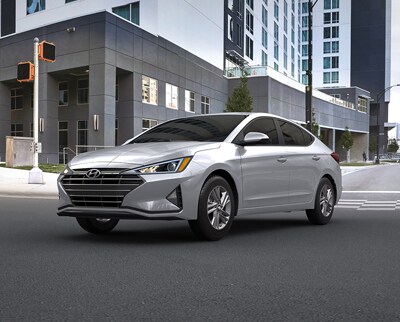 SE
Fuel economy: 29/38 MPG City/Hwy
Transmission: 6-speed automatic
Perimeter/approach lights
Security system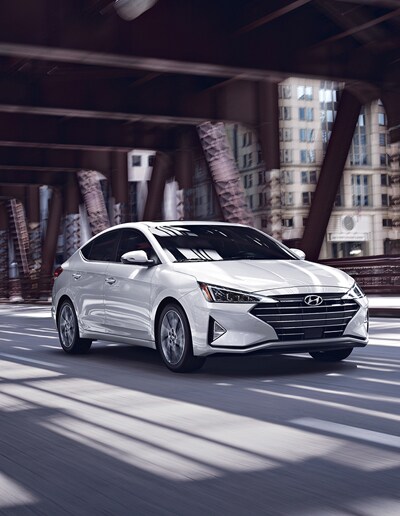 *Vehicle features are not guaranteed and may change with vehicle model-year. Manufacturer vehicle features and options are provided to Avis Car Sales by third parties for informational purposes only based on available data. Check the vehicle for actual features and options.
---
Other Notable Traits of a Hyundai Elantra

---
Fuel economy: When you're looking to save money at the gas pump, any Hyundai Elantra for sale is a good choice. An Elantra is gas efficient, thanks to its excellent horsepower and a four-cylinder engine.

Safety: The Elantra is a great family car for many reasons, with impressive safety features* topping the list. Enjoy Safe Exit Assist, Forward Collision-Avoidance, Pedestrian Detection, and more.

Technology: You'll be delighted by all the modern technology features* of the Hyundai Elantra, which make any drive go more smoothly. Get navigation directions, vehicle health reports, and other features.

Shop for a Hyundai Elantra
The Hyundai Elantra is one of the most stylish vehicles in its class, offering modern technology enhancements and great bang for your buck. If you're ready to find a used Hyundai Elantra for sale, head to Avis Car Sales to shop our inventory today.

Great for:
Commuting
Driving the family around town
Road trips
Running errands

Driving on the highway
City life
Long drives
Browse Hyundai Elantra Models In My Area
---
Common Questions About the Hyundai Elantra

---
Is the Hyundai Elantra a good car?
Yes, the Hyundai Elantra is an excellent car that is in high demand. Owners love the smooth ride, easy handling, sporty look, and impressive value of this popular compact car. It's a great choice when you want a reliable vehicle to commute with, drive around the city, or take on road trips.
How long does a Hyundai Elantra last? Are they reliable?
Hyundai Elantras are good cars that have a long life expectancy and great reliability. They're considered one of the most reliable compact cars on the market today and have very good ownership costs and resale value. The car is not known for any major issues, and most owners spend a very low amount on maintenance and repairs.
How much is a Hyundai Elantra?
The price of a used Hyundai Elantra for sale is based on the mileage, trim variation, condition, and many other factors. It's important to shop around before you make your purchase, so check out our certified pre-owned Hyundai Elantras in-stock near you. You'll be able to easily book a test drive, compare inventory, and more.
Shop Models Similar to the Hyundai Elantra:
*Due to a constantly changing inventory we cannot guarantee that each similar model will have vehicles in stock. Check back often to see our regularly updated inventory.