Jeep Compass Features
The Jeep Compass delivers all the rugged durability Jeep is known for, while still looking stylish on city streets. If you're looking for a car that can take you on both city highways and mountain roads, a Compass is right up your alley.
Common Jeep Compass Features*
Fuel Economy: 22.0/30.0 MPG City/Hwy
Body: SUV
Seating: 5 Seats
Transmission: 6-Speed Automatic Transmission
Drivetrain: Front-Wheel
Engine: 2.4L I-4 Cylinder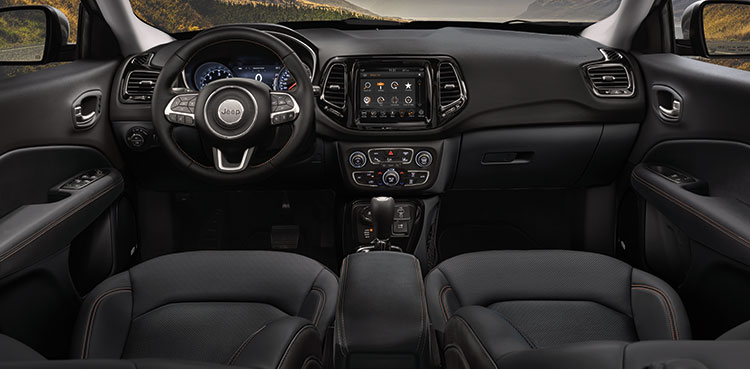 Some Jeep Compass Also Have*
Trims: Trailhawk, Trailhawk 4x4, Limited FWD
Tire Specific Low Tire Pressure Warning
Leather/Metal Look Steering Wheel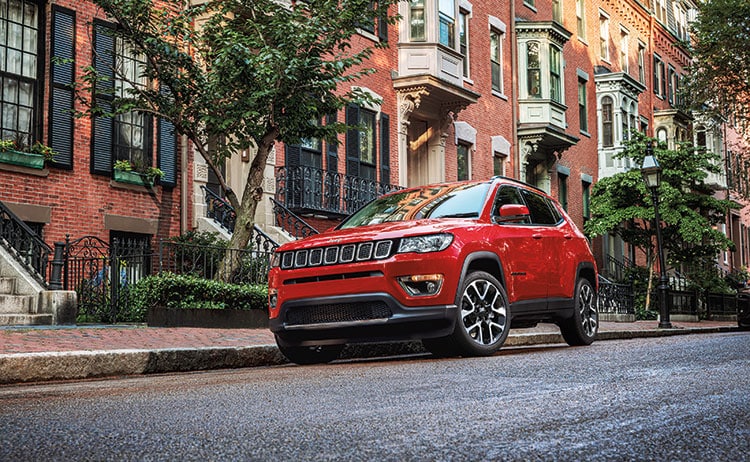 *Vehicle features are not guaranteed and may change with vehicle model-year. Manufacturer vehicle features and options are provided to Avis Car Sales by third parties for informational purposes only based on available data. Check the vehicle for actual features and options.
---
Other Notable Traits of a Jeep Compass
---
Off-Road Capability: It's hard to beat the off-road capability of a Jeep, and the Compass is no exception. Choose the Trailhawk trim package for all-wheel drive, trail-rated tires, and superior suspension.

Large Storage & Seating Capacity: With the Compass, you can easily tow all of your outdoor gear in the country or store all your shopping bags in the city. You'll always have plenty of room for storage, and won't have to worry about sacrificing passenger comforts.

Technology: The Compass' technology features don't disappoint.

Shop for a Jeep Compass
The Jeep Compass is an all-around impressive vehicle, delivering a powerful engine, accurate steering, ample storage space, and some of the best off-roading capability in its class. Find your perfect Jeep Compass for sale today by browsing the extensive Avis Car Sales inventory.

Great for:
City driving
Carrying supplies or gear
Off-roading
Family road trips
Camping and outdoor adventures
Browse Jeep Compass Models In My Area
---
Common Questions About the Jeep Compass
---
Is the Jeep Compass a good car?
Yes, the Jeep Compass is a reliable car with a great reputation. If you're in the market for a subcompact crossover, you'll be hard pressed to find a better option. Shop for a used Jeep Compass for sale and get great steering, a compact design, and a roomy interior in this diverse and powerful SUV.
How Much Is a Jeep Compass?
The price of a Jeep Compass depends on numerous factors, like year, mileage, condition, and trim variation. A new Jeep Compass with low mileage will be more expensive than an older Jeep Compass with more miles on it. If you're looking for specific pricing on a Compass, you can easily check our Jeep Compass inventory, where you can quickly compare available models.
Where Is the Jeep Compass Made?
The Jeep Compass is one of several Jeep vehicles made in North America. In fact, Jeeps are proudly known as one of the "most American" vehicles on the market today, according to Cars.com. Specifically, the Jeep Compass is assembled in Toluca, Mexico. (Individual Jeep parts may be made in other countries across the world.)
Shop Models Similar to the Jeep Compass:
*Due to a constantly changing inventory we cannot guarantee that each similar model will have vehicles in stock. Check back often to see our regularly updated inventory.