Jeep Gladiator Features
Those looking for a safe, reliable off-roading vehicle with easy handling, smart safety features, and amazing towing capabilities will find their dream vehicle in the Jeep Gladiator. The 2020 Jeep Gladiator is the only truck on the market that turns into a convertible for an even more fun ride.
Common Jeep Gladiator Features*
Fuel economy: 16/23 mpg City/Hwy
Body: Truck Crew Cab
Seating: 5 seats
Transmission: 8-Speed Automatic
Drivetrain: 4X4
Engine: 3.6L V-6 cyl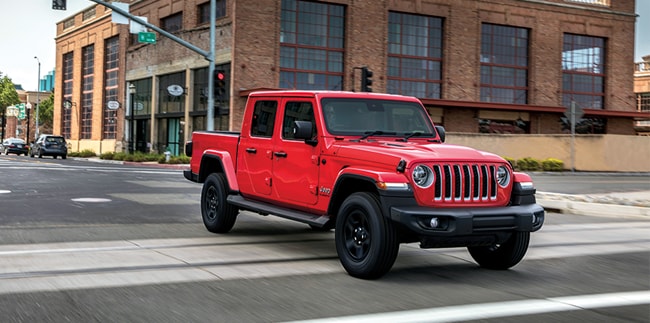 Some Jeep Gladiator Also Have*
Trim: Sport
Wireless phone connectivity
Split-folding rear seats
Steering wheel mounted audio controls
Trailer sway control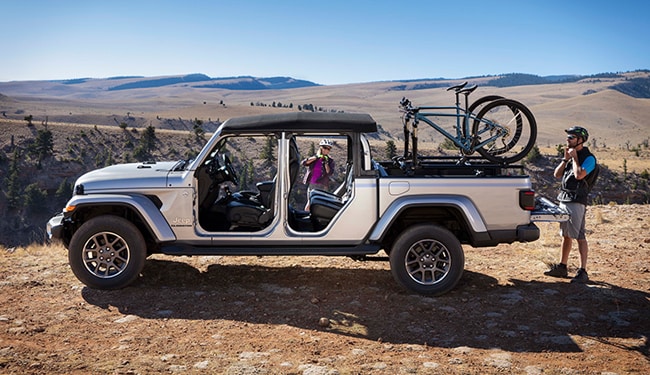 *Vehicle features are not guaranteed and may change with vehicle model-year. Manufacturer vehicle features and options are provided to Avis Car Sales by third parties for informational purposes only based on available data. Check the vehicle for actual features and options.
---
Other Notable Traits of a Jeep Gladiator

---
Durable: The Jeep Gladiator was built to handle the outdoors. 10-inch ground clearance, bumpers, and four-wheel drive ensures the vehicle can handle dirt trails or snowy conditions with ease.

Versatile: The 2020 model of this vehicle combines the power and performance of a Jeep with the storage and comfort of a pickup. The customizable interior, fold-down windshield, and removable doors allow you to tailor your vehicle to your specific needs.

Comfortable: Comfortably seating up to five passengers, the Jeep Gladiator features contoured front seats and spacious back seats that can be folded down for extra storage. Passengers can ride comfortably and securely no matter how bumpy the roads.

Shop for a Jeep Gladiator
This popular, durable vehicle has a rugged design, powerful off-road capabilities, and can tow 4,000 pounds in trailer weight. Drivers may also enjoy high-quality Bluetooth speakers and a lockable interior storage bin. Take a look at Jeep Gladiators for sale in the Avis Car Sales inventory.

Great for:
---
Common Questions About the Jeep Gladiator

---
How much is a Jeep Gladiator?

At Avis Car Sales, we offer more affordable vehicles. Browse pricing on our available Jeep Gladiators here. A used Jeep Gladiator for sale will vary in cost depending on the year, trim, mileage, etc.
How much can a Jeep Gladiator tow?
The 2020 Jeep Gladiator features a 3.6L V-6 engine that allows it to tow between 4,000 to 7,000 pounds depending on the trim. The highest towing capacity is 7,650 pounds with the Sport or Sport S Trim with an automatic transmission and maximum tow package that features 4.10:1 axle gears.

How long is a Jeep Gladiator?
A 2020 Jeep Gladiator is 218 inches (18.1 feet) in length. The length of the cargo area is 60.3 inches, providing plenty of storage space for outdoor equipment. You can view additional specs by looking through Avis Car Sales' inventory of 2020 Jeep Gladiators for sale.

Shop Models Similar to the Jeep Gladiator:
*Due to a constantly changing inventory we cannot guarantee that each similar model will have vehicles in stock. Check back often to see our regularly updated inventory.