Mazda CX-5 Features
All-wheel and front-wheel drive, fantastic fuel economy, and an elegant, luxurious interior design are just a few features that come with the Mazda CX-5. If you're looking for a stylish, family-oriented vehicle or a car that has great ride quality, the CX-5 is a great choice.
Common Mazda CX-5 Features*
Fuel Economy: 25.0/31.0 MPG City/Hwy
Body: SUV
Seating: 5 Seats
Transmission: 6-Speed Automatic Transmission
Drivetrain: Front-Wheel Drive
Engine: 2.5L I-4 Cylinder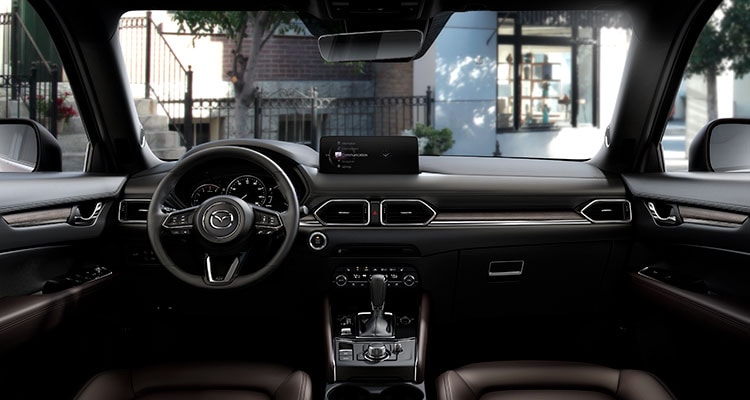 Some Mazda CX-5s Also Have*
Trim: Touring
Heated Front Seats
Leather/Metal-Look Steering Wheel
LCD Monitor
Blind Spot Monitoring (BSM)
Cruise Control with Steering Wheel Controls
Low Tire Pressure Warning System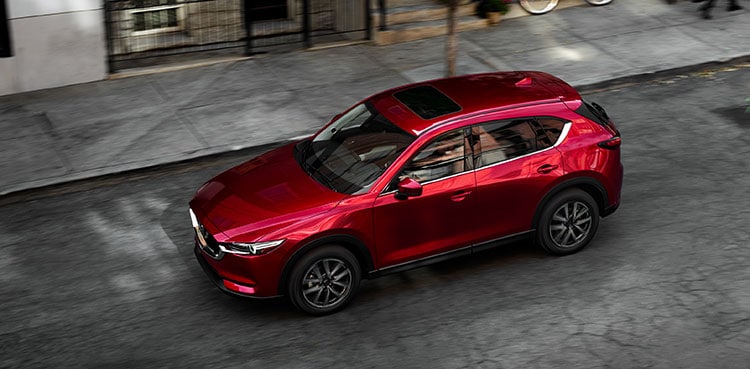 *Vehicle features are not guaranteed and may change with vehicle model-year. Manufacturer vehicle features and options are provided to Avis Car Sales by third parties for informational purposes only based on available data. Check the vehicle for actual features and options.
---
Other Notable Traits of a Mazda CX-5
---
Fuel-Efficient: Along with being one of the most thoughtfully designed SUVs on the market, the Mazda CX-5 also helps you save on gas. Some Mazda CX-5 trims can get up to 31 MPG on the highway and 25 MPG in the city.

Safe: There are plenty of safety features included in the CX-5-it's perfect for anyone looking for a safe, reliable car. You may find features like adaptive cruise control.

Intuitive: Some Mazda CX-5s have a large touch screen that's incredibly responsive. An infotainment system and remote keyless entry are other features that can add to the intuitiveness of the vehicle.

Shop for a Mazda CX-5
As one of the top compact SUVs available, the Mazda CX-5 is an agile and responsive vehicle that boasts great gas mileage, a luxury interior, and the latest safety features. If you're looking for a Mazda CX-5 for sale, visit the Avis Car Sales Inventory. You'll find available Mazdas at a great price.

Great for:
Easy, sporty handling
Commuting
Reliability and safety
See Mazda CX-5s Near Me
---
Common Questions About the Mazda CX-5
---
How much is a Mazda CX-5?
The cost of a Mazda CX-5 will vary depending on the year of the vehicle and whether it's new or used. Used vehicles are typically sold for a more affordable price. To view used Mazda CX-5s for sale and get a better idea on cost, browse the Avis Car Sales inventory.
Where is the Mazda CX-5 made?
The second generation of Mazda CX-5, which began in 2017, is made primarily throughout Asia. There are four major locations where these vehicles are built, which include Hiroshima, Japan (which is where the company's headquarters is); Hōfu, Japan; Kulim, Malaysia; and Nanjing, China. The Ujina Plant in Hiroshima is primarily where production of the Mazda CX-5 began.
Is the Mazda CX-5 a good car?
The Mazda CX-5 should be high up on your list if you're looking for a safe, reliable compact SUV. The vehicle features agile handling, making it a fun vehicle to drive and maneuver. Additionally the 187-horsepower 4-cylinder engine coupled with the 6-speed automatic transmission makes for smooth, precise shifts and enough power to speed up quickly. The luxurious interior, incredible gas mileage, and standard technology features make it a high-quality, reliable vehicle.
Shop Models Similar to the Mazda CX-5:
*Due to a constantly changing inventory we cannot guarantee that each similar model will have vehicles in stock. Check back often to see our regularly updated inventory.