Nissan Frontier Features*
Hop into a Nissan Frontier and be ready for the trip ahead, whether it be in snow, up a mountain road, or hauling cargo. With a truck on hand, you can feel prepared for all of your adventures. Stop by Avis when you're looking for a Nissan Frontier for sale.
Common Nissan Frontier Features*
Fuel economy: 16/23 MPG city/HWY
Body: Truck Crew Cab
Seating: 5 Seats
Transmission: 5 Speed automatic
Engine: 4.0L V-6 cyl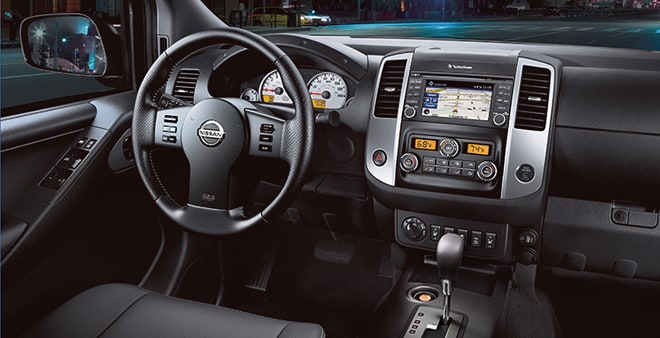 Some Nissan Frontier Also Have*
Wireless phone connectivity
Exterior parking camera rear
Split-folding rear seat
Remote keyless entry
Steering wheel mounted audio controls
Alloy wheels
Rear-Wheel or Four-Wheel Drivetrain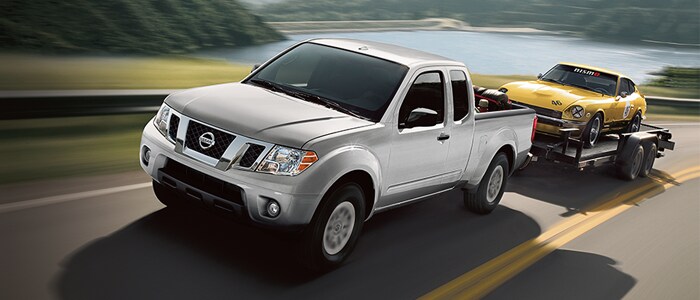 *Vehicle features are not guaranteed and may change with vehicle model-year. Manufacturer vehicle features and options are provided to Avis Car Sales by third parties for informational purposes only based on available data. Check the vehicle for actual features and options.
---
Other Notable Traits of a Nissan Frontier

---
Versatile:  With a Nissan Frontier steering wheel in your hands, you can enjoy a quiet drive through the forest or maneuver through busy city streets. Plus, with a truck bed on hand, you can plan a campout under the stars or transport furniture whenever you want.

Tech. Features: Seamlessly drive in reverse with the assistance of a backup camera and benefit from the effortless keyless entry. As you are driving, you can also multitask with the audio controls on the steering wheel.

Comfortable: The more, the merrier in a Nissan Frontier. When you shop for a used Nissan Frontier for sale at Avis, you will find five seats. The interior is comfortable and has a pleasant amount of room in the back.

Shop for a Nissan Frontier

The Nissan Frontier makes owning a truck more reasonable. Not only can you expect a fair price, but now you'll have a vehicle capable of towing and hauling. Complete tasks quicker and skip the stress of trying to haul things in the back of a sedan.

Great for:
Hauling
Towing
Driving in the snow

Driving in the rain

Browse Nissan Frontier Models In My Area
---
Common Questions About the Nissan Frontier

---
How much can a Nissan Frontier tow?
On average, the Nissan Frontier can tow around 6,500 pounds. However, when comparing a 2020 Nissan Frontier for sale to an older model, the towing capacity will vary. Older models, like the 2018, are going to range from 3,500 to 6,500 pounds. While a 2020 model can tow up to 6,700 pounds.
Is Nissan Frontier 4WD?
Nissan Frontiers can be 4WD, but it depends on the model of the pickup truck. When browsing through Nissan Frontier models at Avis Car Sales, you will have to look at what each trim and model offers. If the truck isn't a 4WD model, then it will come equipped with rear-wheel drive.
How much is a Nissan Frontier?
The asking price of a Nissan Frontier fluctuates with a few different factors. Some components of the price include year, trim, miles, and condition. The great part is that Nissan Frontiers are known for being affordable trucks, and this is one of the reasons they have become so popular. Find great deals on our vehicles as you browse through different used Nissan Frontiers for sale at Avis used cars today!
Shop Models Similar to the Nissan Frontier*
*Due to a constantly changing inventory we cannot guarantee that each similar model will have vehicles in stock. Check back often to see our regularly updated inventory.