Nissan Pathfinder Features
If you're searching for a luxury SUV that can comfortably seat seven people, has towing capabilities, and offers plenty of driver assist features, the Nissan Pathfinder is the vehicle for you. You and your passengers will love the comfort, performance, and high-end technology that comes with this ride.
Common Nissan Pathfinder Features*
Fuel Economy: 20.0/27.0 MPG City/Hwy
Body: SUV
Seating: 7 Seats
Transmission: Continuously Variable Automatic
Drivetrain: Four-Wheel Drive or Front-Wheel Drive
Engine: 3.5L V-6 Cylinder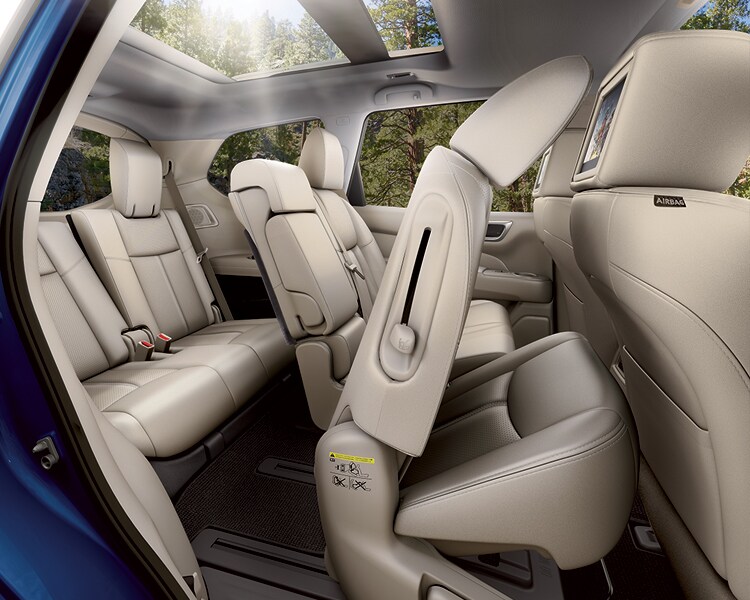 Some Nissan Pathfinders Also Have*
Trim: SV, SL
Leather Steering Wheel
Blind Spot Warning (BSW) Feature
LCD Monitors
Radio with Steering Wheel Controls
Automatic Emergency Braking (ABS)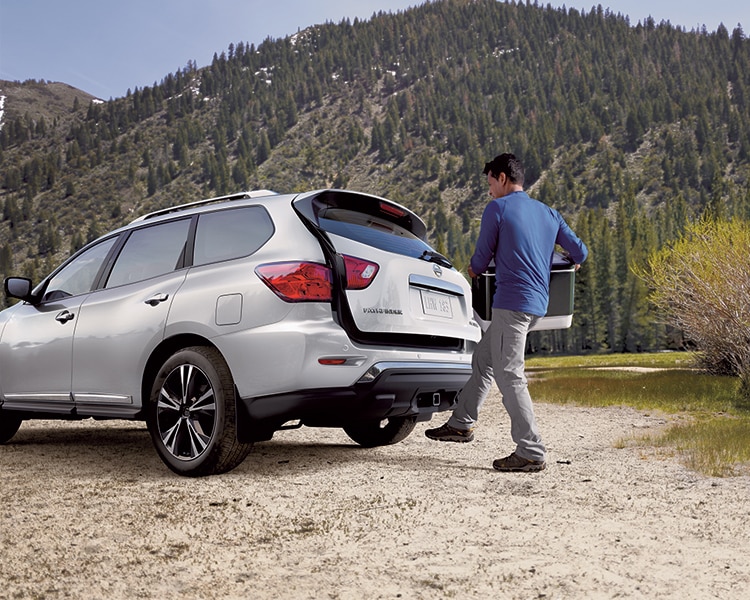 *Vehicle features are not guaranteed and may change with vehicle model-year. Manufacturer vehicle features and options are provided to Avis Car Sales by third parties for informational purposes only based on available data. Check the vehicle for actual features and options.
---
Other Notable Traits of a Nissan Pathfinder

---
Comfortable: All Nissan Pathfinders are designed for you and your passengers' comfort. Climate control, seat adjustment and lumbar support, and heated front seats are just a few components that can be found in a Pathfinder. 

Safety: The Pathfinder has also received high safety testing ratings. Some Nissan Pathfinder trims have robust driver assistance features like automatic braking, blind spot monitoring, smart cruise control, and rear cross traffic alerts.

Convenience: Larger families will have no trouble loading into the Nissan Pathfinder. With EZ Flex Seating features. With this vehicle, you can feel confident that everyone will have plenty of legroom and cargo space.

Shop for a Nissan Pathfinder
The Nissan Pathfinder is indisputable in terms of comfort and capability. Numerous driver assist features, a user-friendly infotainment system, and an airy cabin make it a great fit for large families or avid road-trippers. If you're searching for a Nissan Pathfinder for sale, check out Avis Car Sales' inventory today.

Great for:
Large families with trailers or other outdoor toys
Safety and reliability
Technology and convenience
Towing capabilities
Browse Nissan Pathfinder Models In My Area
---
Common Questions About the Nissan Pathfinder
---
Is the Nissan Pathfinder a good car?
If you're looking at buying a used Nissan Pathfinder for sale, you may wonder if it's a good choice for you. In addition to a comfortable cabin and a great entertainment system, this vehicle features a 3.5L direct-injection V6 engine that has 284-horsepower, making it perfect for transporting heavy loads. The Pathfinder also has variable transmission, which makes for both a fun and smooth ride.
How much is a Nissan Pathfinder?
Nissan Pathfinders for sale will vary in cost depending on the model year and whether you purchase it used or new. Used model prices vary on a number of circumstances, including condition of the vehicle, number of miles, model trim and year, and location. To get a better idea of how much you can expect to pay for a Nissan Pathfinder at Avis Car Sales, visit our inventory page.
Where are Nissan Pathfinders made?
Numerous Nissan vehicles, including the Pathfinder, are made in the United States at the Smyrna Assembly Plant in Tennessee. This plant produces hundreds of thousands of vehicles every year and employs thousands of people. When Nissan was first created, its vehicles were made in Japan. The company is still headquartered there and continues to manufacture vehicles overseas as well.
Shop Models Similar to the Nissan Pathfinder:
*Due to a constantly changing inventory we cannot guarantee that each similar model will have vehicles in stock. Check back often to see our regularly updated inventory.