Ford Mustang Features
Ride in style with a used Ford Mustang from Avis Car Sales. Not only will you look cool but you can show your patriotism with this all-American car. The Mustang is a popular vehicle among those who want to drive fast and turn heads while doing it. Our stock includes late-model coupes and convertibles from 2018 and 2019.
Common Ford Mustang Features
4 seats
2 doors
15-22/24-31 mpg city/highway
Rear-wheel drive
6-speed automatic transmission
2.3L EcoBoost I-4 Turbocharged engine (select models with 5L V-8 engine)
Backup camera
Wireless phone connectivity
Keyless entry

Some Ford Mustangs Also Have:
Heated front seats
Leather upholstery
Select-shift transmission
Convertible roof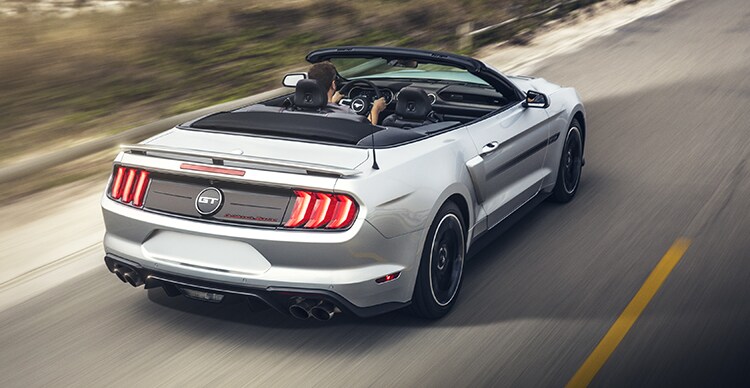 *Vehicle features are not guaranteed and may change with vehicle model-year.
---
Other Notable Traits of a Ford Mustang
---
Retro styling: Today's Mustangs hark back to the original days of the model. Some notable updates inside and out improve the ride without sacrificing the classic feel.

Powerful engine: There is no question why the Mustang was named after a strong and speedy horse. Feel its powerful engine purr as you zoom through the streets.

In-class affordability: The Ford Mustang is a high-end car at an affordable price, especially if you are looking at our used Mustangs-for sale below Kelley Blue Book values.

Great model history: This classic model has been a favorite since it was introduced in the '60s. Although the model has changed over the years, the Mustang is still one of the most recognizable American sports cars.
Shop for a Ford Mustang
When you browse through used rental cars for sale, the Ford Mustang is sure to stand out, whether you're looking at models like the 2019 Ford Mustang Convertible or a used Ford Mustang GT. You can't go wrong with any of the outstanding and reliable Mustang models. Combine practicality with pleasure when shopping through the Avis Car Sales Inventory.
Great for:
Scenic car rides
Cruising through the city
Impressing friends
Accelerating quickly
Browse Ford Mustang Models In My Area
---
Common Questions About the Ford Mustang
---
Where are Ford Mustangs made?
Founded in Detroit by Henry Ford, the Ford brand is known for being 100% American. When you choose to drive a Ford, you choose to support the American dream. In keeping with that tradition, the Mustang has always been made in the USA. Stick with a brand you can trust and drive a Ford Mustang with pride.
Are Ford Mustangs expensive to maintain?
Unlike most sports cars and muscle cars, the Ford Mustang is relatively affordable to maintain. With American-made parts, Fords are generally an easier car brand to fix. Plus, its long history makes the Ford Mustang a more reliable vehicle, so you shouldn't have to worry about any crazy repairs.
Shop Models Similar to the Ford Mustang:
*Due to a constantly changing inventory we cannot guarantee that each similar model will have vehicles in stock. Check back often to see our regularly updated inventory.